New addition BLOOM HONEY comes to the LA Chocolate Salon's 2017 event. Bloom is the first artisan honey to participate in a Chocolate Salon event.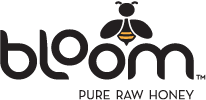 SoCal-based Bloom Honey's mission is to make pure, raw varietal honey an everyday part of your healthy lifestyle. The raw honey sourced straight from the beehive is one of nature's perfect foods. It is rich in antioxidants and phytonutrients, and also contains live digestive enzymes, local pollens, propolis, amino acids, vitamins & minerals, and pre & probiotics.
BLOOM HONEY is award winning, and comes in intriguing and tasty flavors such as Orange Blossom, Sage, and Avocado.
BLOOM HONEY is a member of True Source Certified, an organization whose members certify 100% of the honey they market is produced in the United States. They are also members of California State Beekeepers Association, the American Bee Federation, and the American Honey Producer's Association. In addition, they will donate to Project Apis m, a nonprofit organization dedicated to sustaining the health of the honeybee and researching colony collapse disorder.